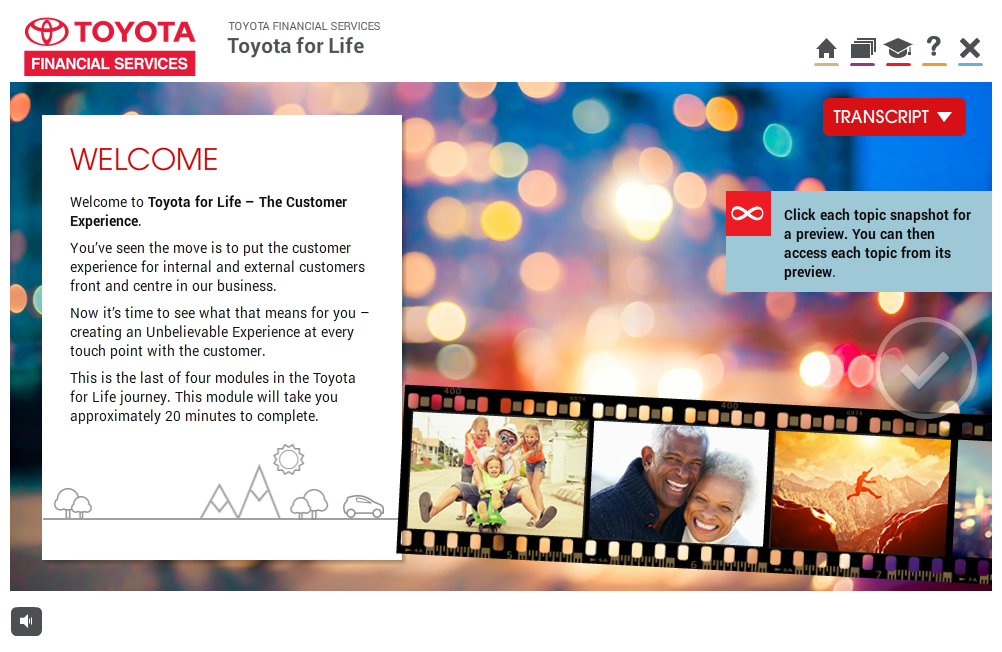 The details…
This is an example of a suite of eLearning modules and a Face to Face (F2F) component I project managed in conjunction with an external vendor (Savv-e) for Toyota Financial Services (TFS).
This suite won a Bronze Medal award for Excellence in the Best Learning Program Supporting a Change Transformation Business Strategy category at the Brandon Hall Group International Excellence Awards 2015.
This suite was also a finalist in the 2015 AITD Excellence Awards in the Best Implementation of a Blended Learning Solution.
This suite consisted of the following training resources:
The Journey Ahead – a short 10 minute module introducing Toyota for Life to learners
Toyota for Life – a 20 minute module that introduces the five behavioural principles and the changes to the landscape for Toyota
The Next Frontier – a 20 minute module that explores how building customer loyalty keeps Customers for Life
The Customer Experience – a 20 minute module that focuses on how to create Unbelievable Experiences at every touch point with the customer
Toyota for Life Face to Face – a two hour training event aimed at cementing the Toyota for Life cultural change
The four eLearning modules introduced TFS staff to what Toyota for Life is and what it means at TFS. It introduced the five Toyota behavioural principles and the customer experience ladder leading them on a journey towards a more customer-centric focus.
I was responsible for project managing the full eLearning life cycle of this induction suite of four eLearning modules and one F2F training component. The process included:
project initiation
vendor selection
provision of source of truth
responsible for approvals/sign offs for high level design, interface design, storyboard and content build
testing content in staging on LMS (MY-LEARN)
coordinating release to production LMS (MY-LEARN)
creating F2F component on LMS (MY-LEARN)
More example images from this suite of modules: