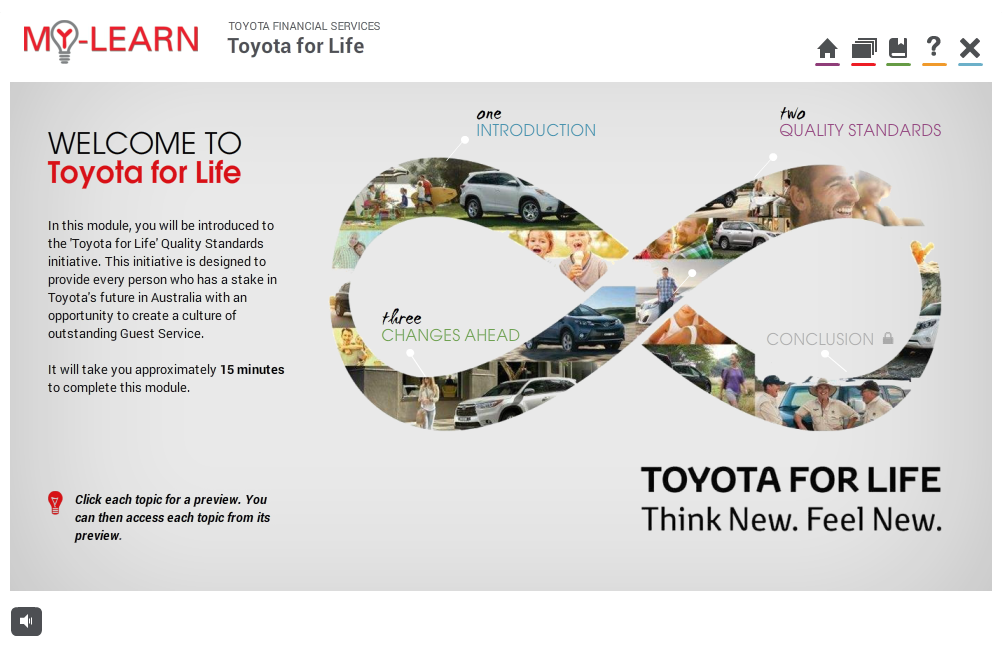 The details…
This is an example of an eLearning module I created in Articulate Storyline for Toyota Financial Services (TFS).
This module was the start of a series of eLearning and Face to Face (F2F) pieces to communicate the cultural changes of the Toyota for Life initiative implemented by the Toyota Motor Corporation Australia (TMCA) which directly and indirectly impacted TFS staff.
This module was the first part of the journey to engage TFS staff to the challenges and opportunities ahead.
I was responsible for the entire lifecycle on this particular project working within a particularly aggressive timeline of less than eight weeks from initiation to release on the LMS. The process included:
liaising with TMCA for videos, icons, etc
organising a video shoot involving the President and CEO
storyboarding
getting approvals/sign offs
creating content using Articulate Storyline
testing content in staging on LMS
comms surrounding release to LMS and timeframes for completion
The actual Articulate Storyline module consists of 20 slides spread across five scenes starting with a video splash before arriving at the homepage and incorporates the following:
four scenes on the homepage – with one locked scene (Conclusion)
Conclusion scene only unlocked on completion of all other scenes
incorporates two videos
incorporate slide layers
contains Menu, Resources and Help screens visible throughout the module
SCORM compliant
writes back completion to LMS
More example images from this module: